AN INTRODUCTION TO THIS GUIDE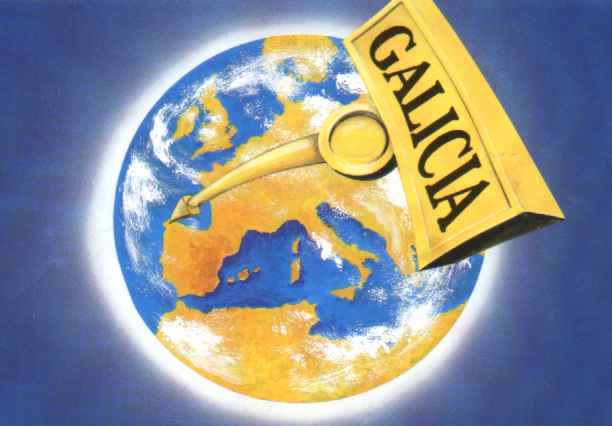 It's been said that Galicia is a small square of land in the world, and that within that square is an entire world to discover.  As one of the lesser known parts of Spain but conversely one of the richest culturally, gastronomically and geographically, I'd say the quote is pretty accurate.
My Mom was born in Galicia (Pontevedra, 1949) and from the age of 4 I began to visit my grandparents here every two or three years.  In 2002, I made the big leap to come live here and it's (I say this all the time) probably the best decision I've ever made in my life.
The information on this page is my personal view on the best things to see and do in Galicia.  I've had a lot of visitors over the years and done some exploring on my own, so you can–to a certain degree–rely on my judgement here.  There are many, many, many more places I'd like to see and as I visit I will add them to this page (or not, depending on the experience).
As I'm a big fan, I hope you come to Galicia and enjoy what it has to offer.  If you have any doubts or questions regarding the information here, please feel free to contact me at vigoritotorres @ gmail.com.
HOW TO GET TO GALICIA
There are three airports in Galicia, some more useful than others.  The biggest and the one with the most direct flights from other countries is Santiago de Compostela (SCQ).  The two smaller airports are in Vigo (VGO) and A Coruña (LCG). Oddly enough, you might find flying into Oporto, Portugal (OPO) the best option.  The Oporto airport is the second largest in neighboring Portugal and is by far bigger than the Santiago airport.  They've got flights direct from Newark, NJ (USA) as well as a large number of connections through the European low-cost airline RyanAir.  Oporto is only 60 minutes from the Spanish border, 90 minutes to Vigo and about 2 hours from Santiago by car.  There is also a very convenient bus link to Vigo direct from the airport.
If you are thinking of doing a Spanish roadtrip with Galicia as one of the stops, you'll find that there are three main highways in.  One is from Lisbon and Oporto and the South, an expensive toll road.  The second is from Madrid which forks into two roads at Benavente, one to Vigo and the other to Coruña (both free until you reach the two cities).  The third road comes from Asturias (Gijón, Oviedo) and it's not actually completed yet, so that would be the slowest (but maybe prettiest?) way (free, so far).  If you're coming from Barcelona you have the choice to go either through Madrid (fastest) or through the Basque Country, Cantabria and Asturias (slower, nicer).  From Southern Spain you can go through Madrid or Portugal depending on your itinerary.  At some point I'll have to write up a section about other parts of Spain, but that's not our charge here.
WHERE TO STAY
As I've always had family in Galicia, I'm not very familiar with the best hotels or places to stay here.  However, all of Spain's hotels and hostels run on a star system that indicates not only their quality but also the facilities they have available.  A quick internet search will undoubtedly give you lots of options for a place to stay.  If you want to stay in a smaller village, speaking and reading Spanish may be necessary, but more and more hotels are hiring receptionists with good English, even in out of the way places.
GALICIA, AN ORIENTATION
Galicia is the roughly square corner of northwest Spain that sits atop Portugal.  As you can see from the map on the right, Galicia is composed of four provinces.  Ourense (Orense in Castillian) is the only Galician province that has no coastline.  Lugo is the least populated province with the smallest coast facing North.
The other two provinces are A Coruña and Pontevedra.  They have the most interesting places to visit as well as the majority of the population and urban areas.
In Galicia, the Atlantic coast is divided into Rías (estuaries) that you can see in between the numerous peninsulas that jut out into the ocean.  The four southernmost rías (from Vigo to Noia) are together known as the Rías Baixas.  The remaining Rías from Camariñas to Ribadeo are known as the Rías Altas.  In general, the Rías Baixas have more moderate temperatures and better summer beaches, whereas the Rías Altas have more spectacular, rockier beaches and not such good weather.
WHAT TO DO?  EAT, DRINK, BE MERRY
When you come to Galicia you may want to do sightseeing, you may want to explore nature, or you may just want to relax.  However you decide to spend your time here, though, I must encourage you to go slowly and try to enjoy each place on its own.  In Spain it's quite common to stop frequently for a coffee, beer or wine and you should do that at least once every hour as you travel.  The food that Galicia and Spain offer, as well as the wine, should make this advice easy to take.  When my friends visit from the States, it's often a battle to get them away from the tapas and wine bars in order to "go see something".  With that in mind, here's an incomplete list of the special foods and drinks you can find in Galicia.
TO DRINK
Albariño wine.  This is the most popular and most well-known of the Galician wines.  Any commercially sold Albariño should come from the D.O. (Denominación de Orígen) Rías Baixas.  The DO is split into to different geographical areas and this can affect their taste.  Albariños from the O Rosal area can have other grapes aside from Albariño blended in and therefore offer a more homogeneous selection, whereas Albariños from the Salnés area use only Albariño grapes and their flavor can vary more.  Albariño is best with seafood.  Some good bottles: Terras Gauda (O Rosal), Martín Códax (Salnés), Dionisos (Rosal, very hard to find but if you do, get it!!)
Ribeiro wine.  Ribeiro is lesser known outside of Galicia but well-respected in Spain.  It's based on the Treixadura grape and the D.O. sits halfway from Vigo to Ourense in and around Ribadavia.  Personally, I prefer almost any Ribeiro to an unknown Albariño because I know what it will taste like.  You should try each once and make your own verdict.  Let me know what you think!  Good Ribeiros: Viña Mein, Reboreda
Mencía wine.  Mencía is Galicia's best red wine and it comes from what were originally Roman vineyards grown along the Sil river gorge north of Ourense.  Mencía is not generally considered a heavy-hitting red wine to compete with the other Spanish reds, but it's inexpensive and sometimes it can surprise you.  Usually light.
Ribera del Duero and Rioja wines.  These are the heavyweights of Spanish wine and are well-known throughout the world.  If you don't know much about wine but would like to try, the best thing to do is get a bottle of Rioja or Ribera that's labeled Crianza.  In Spanish wines there are three quality levels: Cosecha, the lowest; Crianza in the middle; Reserva, the best.  The prices increase accordingly, but most people consider a crianza from Ribera to be as good as most reservas from Rioja.  The Ribera has a more complex flavor than Rioja, which I often joke is the Merlot of Spain.  Favorite Riberas: Portos, Pago de Carraovejas and (the best and most expensive) Vega Sicilia.  Favorite Riojas: any reserva.
Toro and Penedés wine.  Both of these are up and comers in Spanish red wines.  The first is from Zamora in nearby Castilla y León, the second is from Catalunya.  If you like wine and want to try something new, look for a crianza or reserva from one of these areas.  While I don't have a favorite Toro, the Torres Gran Sangre de Toro is a great one from Penedés.
Cava sparkling wine.  Made with the same process and grape as champagne, Cava is a wonderful sparkling white for all occasions.  Freixenet and Codorníu are the most popular.  I like the Anna de Codorníu personally.
Beer.  If you're a big beer fan, Spain might not be your best bet.  There is only a small interest in microbrewing so far, so most of the best beers are imported.  As far as Spanish beers go, Estrella Galicia is the most popular beer in these parts, but Mahou, San Miguel and Cruzcampo are all pretty much equally Bud-like.
Cocktails.  There has been a resurgence of cocktail culture in Galicia recently, mostly revolving around Gin & Tonics.  You can now find many bars with lists of ten or up to one hundred different gins as well as a wide variety of tonics.  In the Pontevedra old town (just next to the Plaza de Méndez Núñez), a small bar that opens after dinner called Hama is the best place I have found to sample the new mixology.  Try the Manhattans!.
TO EAT
Tortilla.  Spanish potato omelet, nowadays pretty well-known outside of Spain, I think. The typical Galician version has onions and chorizo inside.  Good hot or cold or in a sandwich.
Pulpo a feira.  Octopus in the Galician style.  Don't knock it until you've tried it.  It's simmered and then cut up just before eating, served with olive oil, salt and spicy paprika. Simple, delicious and a big hit with visitors.
Pimientos de Padrón.  Little green peppers from Padrón, a town near Santiago.  A popular saying is that some are spicy and some are not.  Usually 1 in 10 will be spicy, but it's easily bearable if you compare to jalapeños or Indian food.
Empanada.  Every culture seems to have some kind of meat pie, and Spaniards are no different.  In Galicia, however, you can find empanada de maíz, which is cornmeal empanada.  It's crustier and heartier than the more common wheat version.  Though empanada can be made with almost any filling, one of the best around here is withberberechos or zamburiñas.
Croquetas.  Little bits of (usually leftover) meat or seafood in bechamel sauce breaded and fried.  A tasty snack.
Calamares.  Just like in an Italian restaurant but without the tomato sauce.  Little rings of squid lightly battered and fried.
Jamón.  The best ham in Spain comes from the region of Extremadura and the pigs are fed on a diet of acorns.  This is called Jamón de Bellota and though it's expensive, you should at least try some.  It melts in your mouth.  All other Spanish ham is more or less the same and delicious, but make sure it's jamón serrano and not jamón york.   The first is Spanish for Prosciutto, but the second is just boiled ham slices.
Queso.  Galicia is well known for it's creamy Tetilla cheese, thus named because it's often shaped like a, well, tit.  The best place to buy it is at a market or in a place were they make it themselves.
Camarones, Gambas, Langostinos.  Because Galicia is home to a large number of seafood species, there are often many different words for animals that are basically the same.  These three are all shrimp but the camaronesare very small (a lot of work).  Gambas are smaller than langostinos, but they offer equal amounts of peeling and they're both yummy.
Zamburiñas and vieiras.  These are both scallops.  Zamburiñas are usually served off the shell in some kind of sauce whereas vieiras are usually served baked in the half-shell something like clams casino.  The vieiras are very big and the zamburiñas are very small.  Both offer completely different tastes.
Berberechos and Almejas.  Both clams.  Berberechos are what we might call baby clams and often show up inempanada.  Almejas are usually served in a red or green sauce and are insanely delicious.  Sop up the sauce with your bread and be sure to eat the clams as if they were spoons, putting the shell in your mouth and sucking out everything in the ¨spoon¨.  So good!!
Mejillones.  Mussels.  Galicia is the world's biggest producer of mussels and you can actually see the wooden floats (bateas) that fill the rías' surface.  Ropes are hung from the floats and the mussels attach themselves.  To harvest, you just pull up the rope and pluck them off!  Mussels are served a lot of different ways, but since they're so fresh, you'll probably enjoy any version of them.
Navajas.  These are razor-neck clams and are served grilled with just some olive oil and salt.  If you like clams in general, you'll like these despite their (to some) wormy look.
Nécoras, Centollo.  These are both crabs, the second being the bigger spider-crab.  They are usually served whole and you have to do all the work of cracking and getting them.  I'm not a big fan of all that, but I will admit that I do love the way they taste.
Bogavante.  Lobster.  Not as good as Maine lobster, but not bad.
Cigalas.  These are called Norwegian lobster in other places and they're similar to lobster but much smaller.  The taste is sublime.  Definitely my favorite shellfish after clams.  Make sure to eat the orange meat that often sticks out of the head.
Percebes.  Percebes are the most expensive delicacy the Galician sea has to offer, but many people feel they just taste like sea water.  I am not one of them.  They have been unjustly translated into English as "goose barnacales" which sounds awful and besides, they have nothing to do with geese.  The percebesare small mollusks that attach themselves to rocks near, but not on, the shore in rough waters.  To harvest them, the fishermen have to go out in teams of three: two to climb on the rocks and pry off the percebes, the other to keep the boat from crashing into the rocks and warn the other two of coming waves that might knock them off.  It's a fascinating process and the price is worth it, if only to try once.
WHERE TO GO
In an effort to make this guide more useful, I am going to arrange the entries according to their geography and how you might put them together in your itinerary.  But I'm going to start with the, "What should I see if I only have a few days?" places first.
WHAT NOT TO MISS
Santiago is by far the most visited place in Galicia and one of the most visited in all of Spain. Inside its cathedral is said to be buried the remains of Saint James the Apostle and since the Middle Ages it has been a site of pilgrimage for those European Christians who could not reach Jerusalem.  The Cathedral alone is worth visiting–an excellent example of Romanesque architecture despite the later Baroque additions–but Santiago is also has an extensive old town to walk around in.  The buildings are made with the granite typical of Galicia and you'll notice that many of them are built with colonnades over the sidewalks.  This is a typical feature of Galician architecture that helps residents and visitors alike avoid the rain during the winter.
Be sure to walk around the city's Alameda where you can get a fantastic view of the Cathedral's main façade.
Baiona, la Virgen de la Roca, el Monasterio de Oia y Santa Tecla
Southwest of Vigo you'll find the port town of Baiona.  It's considered to be a bit posh/fancy and that's probably because it has a beautiful location on the Atlantic at the mouth of the Ría de Vigo and just south of the Islas Cies.   From the main street in Baiona you'll see a hilly island in the sea with a castle.  This castle is a state-run hotel called a Parador.  You generally find them in monumental old buildings around Spain and they are usually very expensive.  In Baiona, however, the trick is to just walk around the base of the island and soak up the views of both the castle and the sea.  In the port you can see a replica of Christopher Columbus's second boat, the Pinta.  Baiona was the first place the Pinta landed upon its return from the New World.
Five minutes down the coastal road from Baiona you'll see a sign up the hill for the Vírgen de la Roca.  The Virgin of the Rock is a large statue placed on a hillside facing the sea.  I like to think of  her as the Galician Statue of Liberty.  She carries a boat in her arms and if you go visit, you can climb a spiral staircase up through the interior of the Virgin and actually stand inside the boat she holds.  The views are nice, but a picture of you in the Virgin's boat is really the best part.  If you go you'll also learn that the statue was supposed to be much much taller, but due to budget cuts, they adapted her skirt to smaller dimensions–y0u can see the change in scale if you look closely.
Leave Baiona and head South towards Oía and A Guarda.  This coastal road travels just above a rocky shoreline and in reminiscent of California's Pacific Coast Highway.  At Oía, follow the signs to the monastery.  You'll discover an old Cistercian monastery facing the see just yards above a small beach.  If you can get there during the afternoon when the sun is setting, your experience will be that much better.
Continue South and when you get to the town of A Guarda, look for signs to Santa Tecla (or Santa Tegra).  A Guarda is a small fishing town located at the mouth of the Miño River right on the border of Spain with Portugal.  Santa Tecla is a tall mountain park with not only spectacular views from the top, but also with the extensive remains of a Celtic village near the top.  There are a dozen Celtic village remains (called castros) in all of Galicia, but in my opinion none so spectacular as Santa Tecla.
If you're a fan of nature, geology or just breath-taking coastal areas, then you really need to see theCathedrals Beach on the shore of Lugo.  It's an out of the way place–the nearest towns worth visiting are Ribadeo and Lugo capital–but it's truly worth the journey.  The Cathedrals Beach is located at the base of a very long cliff that runs parallel to the shore.  Over the years the tides have burrowed tunnels into the cliffs and have left a series of columns and "arches" on the beach.  Exploring them is a great way to spend a few hours.  BE ADVISED: you have to go during low tide or you will completely miss the spectacle.  In addition, it's better if you can go close to the full or new moon as that's when the tides are more exaggerated and you'll have a lower, longer low tide during which to enjoy the beach.  On the hand, if you go during a half-moon, you'll wind up with a tide that's neither very high nor very low and you'll only get to see about half of the area.  In Galician, low tide is baixamar and you check the times here.
Illas Cíes y Ons
The islands in that Atlantic at the mouths of the Rías de Vigo and Pontevedra are together known as the Atlantic Islands National Park and while they are protected areas, you can visit them by ferry (or private boat) during the summer.  The islands offer different options depending on your taste.
The Cíes Islands have beautiful scenery and hiking as well as what one British travel magazine called the "best beach in the world".  If you want to stay there overnight, you have to camp within the campgrounds and make a reservation in advance.  The campground is generally well managed and far enough away from the cafeteria/discobar at night so that you can sleep if you're interested.  Eat at Serafín's half way between the campground and the Nosa Señora beach.  While Rodas beach is the famous one, I also prefer the smaller Nosa Señora–the water is a bit warmer and there is usually less wind.
Ons Island has less fauna and flora but it also has very nice beaches and unlike Cíes, people live there year round.  In addition to a campground (apparently not very well maintained, but I´ve never been myself) you can find some very inexpensive rooms or even houses to stay in as well as a few different restaurants and bars.  Try the restaurant at Casa Acuña where we had some amazing barbecued ribs recently.  For beaches, take the 25 minute hike to Melide Beach which is officially nudist but really has a "wear what you feel like" policy; it's bigger than the beaches near the port and better protected from the gust Atlantic winds.
To go to the Islands, you need to take a boat either from Vigo, Bueu or Sanxenxo depending on your destination.  You can check travel times and reserve online with Mar de Ons or Piratas de Nabia, though you might find cheaper lines either at the port or online as well.
It's hard for me not to list Pontevedra as the first place to visit.  It's the city where I've spent most of my time while living in Spain and it's like a second hometown to me.  Having explained my bias, I also have to say that it's one of my visitors' favorite places to visit as well.
Pontevedra is a small city of only 80,000 but it's history and charm surpass some of the larger cities like Vigo or Coruña.  The town's best feature is it's well-preserved and reformed old town, where all the streets have been pedestrianized and you can find a number of different medieval plazas in which to have a beer or wine or something.  Pontevedra also has an impressive historical museum, a recently opened modern museum, a sculpture park featuring international artists, and a riverside walk.
Places to visit include the Peregrina Church and adjacent Praza da Ferrería where you can see the San Francisco church and monastery (the monastery is now a gov't agency), the Praza de Verdura or Praza da Leña where you can have a drink or tapa, the orange tree-lined Praza de Teucro where you can see three stone coat of arms on the surrounding buildings that date back to the 17th Century, the ruins of Santo Domingo and the adjacent Alameda, the Basílica of Santa María la Maior which is something like Pontevedra's cathedral and the Parador, formerly the residence of a nobleman.  For food, go to El Pitillo for good, inexpensive tapas including the best zamburiñas al ajillo (scallops in garlic sauce) you've ever had as well as very quick service.  Jaqueyvi is the best bet for wine, ham and cheese.  Just outside Pontevedra, 10 minutes away in Poio, is my favorite restaurant in Spain, Casa Solla.  The chef, Pepe Solla, is one of the top chefs in Spain and he has created an amazing menu of traditional Galician cuisine using state-of-the-art culinary techniques.  It's expensive, but if you're a foodie, you're going to love it.
After dark, Pontevedra offers a lot of nightlife Thursday to Saturday nights.  The action centers on the old town, so start near the town hall and work your way down to the river.
A Toxa, A Lanzada, Combarro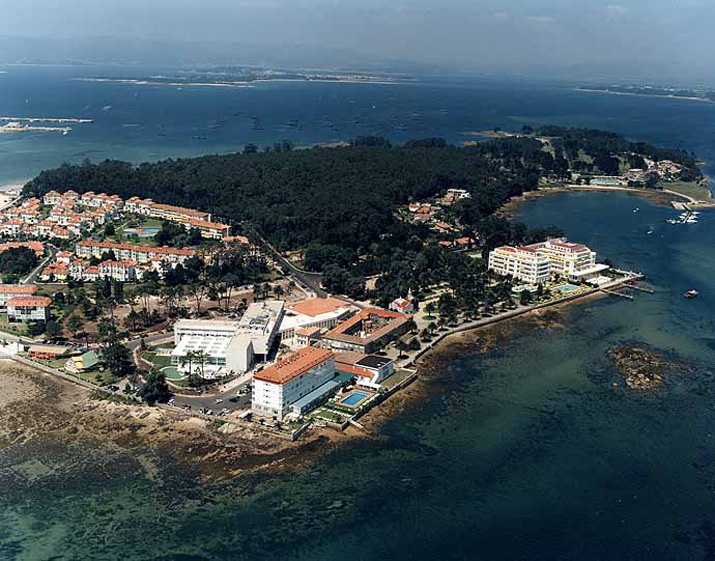 Out at the end of the northen side of the Ría de Pontevedra, is the fishing town of O Grove where you can certainly find some delicious seafood.  But to me, the big draw is the island that sits just north of the town in the Ría de Arousa, called A Toxa (La Toja in Castillian).  A Toxa sprung up as a turn-of-the-century resort thanks mostly to it's natural mineral water.  There you will find the remodeled Grand Hotel, Spa and Casino as well as some other hotels and summer houses.  The Grand Hotel and Spa is luxurious and expensive, but very very nice.  Even if you stop there for an expensive cup of coffee, I think you'll be impressed with it's old school charm.
As you drive back towards Pontevedra along the coast, you'll come to the Lanzada beach.  It's one of the longest beaches in Galicia, which is no great shakes to a Long Islander, but on a hot summer day it's where you want to be.  The beach actually forms an isthmus between the mainland and the (former) island of O Grove.  In addition to great sunbathing and occasional surfing, A Lanzada is also known for it's small chapel (located on the extreme left side of the beach).  It's here that couple used to come when they couldn't conceive.  After making an offering to the local clergy, the wives would spend a night with them and go out into the water after dark.  "Miraculously" they would get pregnant soon after.  Ahh, Catholicism.
There are more places to stop along this coast, both for interesting beaches like Bascuas (nudist) or Paxariñas as well for small fishing towns like Portonovo and Raxo.  Sanxenxo is a big tourist trap and I wouldn't actually stay there, but having an ice cream along their boardwalk is nice.  To me, the jewel of the Ría is Combarro.  It's a very, very small fishing village about 20 minutes from Pontevedra with a very well-preserved old town.  The streets are so narrow that a car would be unheard of.  So head to the Combarro old town and walk along the street closest to the water.  In addition to restaurants and bars, you'll see a number of horreos (stone and wood granaries shaped like Roman basilicas elevated on stone pillars) just above the water.  Horreos are typical to Galicia and the ones in Combarro are some of the most picturesque.  For food and drink go to O Bocoi where you should have some of the house white wine in the bar before sitting down for a lunch or dinner in the restaurant which sits above the water.
Barra
This is the place for sun worshipers.  Barra is by far my favorite beach in Galicia and its widely-considered to be one of the prettiest, at least in the Rías Baixas.  It's located at the end of the Morrazo peninsula near the town of Hío, and it's nestled between a forest of pine trees and a stone cliff that forms Cabo Home.  The mixture of colors between the sea, the sand, the pines and the sky is sublime.  There are beachside chiringuitos (beach huts) where you can order sandwiches or tapas, beer and ice cream, etc.  There's only one catch: it's nudist.  Now, that's a plus for me, but it's not necessarily everybody's cup of tea.  However, if you want to go and keep your trunks on, that's not really a problem so long as you don't mind seeing everyone else with their's off.
OTHER PLACES WORTH VISITING
In this section we´re starting on the southwestern coast and working our way around the map roughly clockwise.
Tui & Valença
Tui and Valença are border towns on either side of the Miño river.  Tui was formerly a Galician capital when the region was divided into seven "kingdoms" and it has a beautiful, haunting cathedral to show for it.  On the opposite shore sits the Portuguese town Valença where you can explore the enormous fortress once used to launch cannonballs over at Napoleonic Spain.  There's a famous flea market there on Wednesdays as well.
Vigo is not the prettiest city, but it's got a location to rival San Francisco.  Set on a steep hill along the Ría that bears it's name, most of Vigo overlooks the entrance to the Ría and the Cies Islands.   There is a bar and restaurant filled harbour area (Montero Ríos) as well as a younger, more rock n'roll neighborhood for nights out (Churruca).  Vigo has an urban beach (Samil) as well as some beautiful public sculptures.
Hío, Cabo Home, Praia Melide
Across from Vigo, at the end of the Morrazo peninsula (on the same road that takes you to Barra Beach), is a little village called Hío that wouldn't really be of interest except for one little sculpture.  Outside it's church there is an elaborately detailed cruceiro (a crucifix to mark crossroads).  It doesn't sound like much, but the stonework is really tremendous and worth the five-minute stop.
Further on down the road, you get to a natural park called Cabo Home (Cape Man) where you can hike along the rocks and check out the lighthouses as well as take a dip at another very beautiful beach called Melide.
The Peralta & The Areacova Restaurants
On the road from Hío and Cangas in the direction of Bueu (along the coast), you'll pass two great places to eat.  The first, the Peralta, is in Aldán, a small fishing village.  Turn off the main road towards the fishing port and just before the port's parking lot you'll find this bar/cafe.  Sit outside and try the Mejillones a la Gallega (mussels in a green clam sauce) which is out of this world.  A little further up the main road you'll see a sign for Areacova beach.  Just above the beach is theAreacova Restaurant with an enormous outside terrace.  The beach there is small but looks quite nice.  At the restaurant they have very good barbecued ribs and decent prices.  The best time to go is after a long day at the beach when you're hungry and you can watch the sunset over the ocean as you eat.
On the inland road that connects Vigo and Pontevedra you'll find the town of Arcade, known for it's oysters.  Turn here to go to the Soutomaior Castle.  An imposing structure up in the hills with beautiful surrounding gardens.
Carril
Further north you'll find the Ría de Vilagarcía and a town with the same name.  Nothing too great to see here, but in neighboring Carril, they have the most famous clams of the region.
Illa de Arousa
Also in the Ría de Arousa you'll find the Illa (Island) de Arousa sitting in the center.  A bridge near Vilanova connects it to the mainland.  While the northern part of the island has a small village, the southern half has been preserved and kept wild.  You can walk through its forests or head to the beach.  Either way it's a nice place to go for the day.
Cambados
Further down from Vilagarcía, headed towards O Grove and A Toxa, you´ll find Cambados.  Cambados is known as the heart of Albariño country and hosts the Festa do Albariño every summer.  It's a pretty town with a small old town worth walking through.  Nothing beats going during the festa, but you can visit the local wine shops and nearby bodegas year-round.
Catoira
The thing to see in Catoira is not actually the town, but rather the ruins on the shore of medieval towers and battlements that defended Santiago from the Vikings a long time ago.  It's a long walk along a path through wetlands, but when you get to the ruins there are some cool information plaques as well as a replica of a Viking ship moored nearby.  Catoira, too, is best to visit when they have their annual Battle of the Vikings festival.
Further out from Catoira, heading along the road towards Ribeira you can go to the Dunes of Corrubedo, a natural preserve on the Atlantic coast where you can walk along sand dunes as tall as a house.  The beach is nice and the nearby fishing towns of Ribeira and Boiro aren't bad for getting a bite and/or drink.  (Is anyplace in Galicia really bad for that?)

The Ría de Muros & Noia
The next ría north of Vilagarcía and roughly west of Santiago is the Ría of Muros and Noia, two small towns that are both charming, but the real treat is driving along the coastal road along the ría.  After you pass Noia you'll see some amazing coastline.  Monte Louro, a small rocky mountain right on the sea and its adjacent lagoon is a nice place to stop either for the beach or for the views.  Carnota is known for having the longest beach in all of Galicia, as well as the (world's) longest horreo.  Laguna Further along you'll find the Galician Everest, Monte Pindo which can be fun to climb or drive up, end eventually you can drive all the way to Finisterra one of the Roman's "End of the World" towns along with England's Land's End and Finisterra in Portugal.
Also from Noia, you can take the road the leads along the south coast of the ría towards Porto do Son y Portosín.  About a half hour out you'll find a turn off for the ruins of another Celtic village called Castro Baroña.  This castro, unlike Santa Tecla, is located on the edge of the sea in a small rocky island on the ría.  To see the two castros is a lesson in contrast and Celtic life.  These Celts were fishermen and their village is in a beautiful spot.  Note that Monte Louro can be seen directly across the ría, but the castro is too small to be seen from the other side.
Costa da Morte, Muxía, Camariñas
North of Finisterre, you come across what's known as the Coast of Death, or A Costa da Morte in Galician.  It's a dramatic rocky coast where there have been numerous shipwrecks over the centuries.  (Urban legend has it that the local residents would put lights up on the hills set back from the coast to fool ships into thinking they were lighthouses, then after the wreck they would collect the cargo for themselves!)  Muxía and nearby Camariñas are two of the nicest towns to visit in this area.
A Coruña, along with Vigo, is one of the two largest cities in Galicia.  Unlike Vigo, however, Coruña is really pretty.  The center of the city sits in peninsula that juts out into the Atlantic from the mainland with a long sandy beach on one side and a harbor on the other.  The city is really enjoyable complete with an old town, fine museums including an aquarium and a science museum about the human body (the Domus), galleries and a spectacular seaside walk that goes all the way peninsula.  You can also visit the oldest working lighthouse (don't quote me on that) in Europe there, known as the Torre de Hércules (Hercules' Tower).  When I go I love to walk down from the tower to the rocks and watch the waves hit the shore.  It may be my imagination, but they always seem to hit harder in Coruña.
Betanzos
A small town southeast of Coruña, Betanzos is known for it's old town as well a nearby park called the Pasatiempos or Pastimes.  Way back in the 1920′s or 30′s two locals who had struck it rich in South America came back to Betanzos and opened this then state-of-the-art park to try and show their fellow townspeople some of the things they had seen around the world.  You'll find a scale model of the fountain from Madrid's Parque del Buen Retiro as well as artificial caves built into the hill.  A large concrete lion sits at the very top overlooking the park (concrete had been recently discovered as a building material at the time).
Praia de Vilarrube y San Andrés de Teixido
For a bit of Galician folk culture, you can take the winding road from Cedeira out to San Andrés de Teixido, where legend has it you will go as a lizard after you die if you do not go while you are still living.  It's a very small village and the church/shrine is no great shakes, but the journey is quite beautiful.  Along the way, you can stop at one of the most breath-taking beaches I've seen in Galicia called Vilarrube.  It's on the road just west of Cediera.
The province capital of Lugo has everything you could want from a Galician town: a beautiful old town and cathedral, nice people and great food.  It's famous for its 12th Century wall surrounding the old city center.  It's been declared a UNESCO heritage site and you can walk around atop the wall for free.
The fourth province capital, Ourense, is also a nice town with a very pretty old town, cathedral, etc. but no wall.  There are however some very nice bridges to walk across the river, including one where you can walk up to the top of the its towers.
Ourense is also known for its natural hot-water springs.  In the center of town you'll find a fountain whose water comes out piping hot, and near the river there is a popular Japanese-style bath house called the Termas de Outariz with three different swimming pools and a very relaxing ambiance.
Cañón do Sil
Dividing Ourense and Lugo provinces is the Sil river, and its river gorge, El Cañón do Sil, is a very popular place for vacations and excursions.  The gorge is filled with natural beauty as well as some very impressive monasteries on the Ourense side.  One, San Estevo de Ribas de Sil has been converted into a state-run hotel (parador) complete with spa.  On a recent visit to this region we stayed in a casa rural, or rural house, called theReitoral de Chandrexa where everything was eco-friendly and the owner served us a menu of organic food from his own garden.  Rural houses are an excellent way to see the countryside with from a more intimate and inexpensive perspective.
In the center of Coruña province, you'll find the Fragas de Eume park, a preserve that can be entered from a few different points.  It's known for hiking and camping, but there is also one of the oldest monasteries in Spain (Monasterio de Caaveiro, AD 936) near the entrance from the town of Pontedeume.  The name Fragas refer to the forests of autoctonous Galician trees you can find here, nowadays hard to find among all the eucalyptus trees brought by Franco and the pine trees brought by the Romans.
FIESTAS OF INTEREST
Festa do Albariño
At the beginning of every August, Cambados hosts this festival of Albariño wine, where all the Rias Baixas wine producers open stalls and sell bottles and ridiculously low prices.  The typical thing to do is buy one tasting glass with a string so that you can hang it around your neck while not drinking.  There are food stands, concerts and carnival rides as well.  Just make sure you're sleeping nearby or have a designated driver for the ride home!  (Seriously, the police are very vigilant on nights of the festival.)
Carnavales
Mardi Gras, or Carnaval, is a big deal in Galicia, especially in the Ourensano towns of Xinzo da Lima and Verín.  The locals there will often wear six different costumes in one day.  In these towns there are special figures that will throw flour on party goers, or in some cases ants.  It sounds crazy, and that's the point.  In general, every town has a Carnaval and parade of floats, but some towns have more tradition than others.  In Pontevedra, for example, rather than bury a paper-maché sardine as is done in most Spanish cities, they bury and hold a funeral for a very special parrot named Ravachol.  Ravachol lived in a pharmacy in town during the 20th Century and was famous for saying saucy things to the customers.  Now he has become the symbol of annual sin and debauchery that is laid to rest at the end of every Carnaval in Pontevedra.
Feira Franca
The Feira Franca is an annual medieval fair held in the old town of Pontevedra on the first Saturday of September.  While there are other, older medieval fairs in Galicia–notably A fest da Historia in Ribadavia–the Feira Franca is quite special because an estimated 80% of the townspeople dress in costume, all of the buildings are decorated and thousands of people can be found milling about all day eating at outdoor tables set up by the local bars and restaurants or perusing the different stands and exhibitions of medieval artisanry.
I have to admit that even though I'm close to middle-aged, I still have a childlike love for fireworks.  If you're like me, then here are three fiestas you'll really enjoy.  On July 25th, the plaza outside the Cathedral of Santiago is filled with people by 9pm waiting for the evening fireworks show.  Images are projected onto the façade of the Cathedral and the fireworks are launched from the Cathedral's roof!  Very cool and worth suffering the crowd.
Also in mid-July in Vigo, the neighborhood of Bouzas puts on a spectacular display along the water at Bouzas Beach.  The one drawback is that they have recently started to break up the 40 minute spectacle into blocks to accommodate the reading of poetry in between segments.  Not so fun,  but the fireworks are still nice.
In early to mid-August Pontevedra hosts the Festas da Peregrina (Pilgrim Festival) and celebrates both the opening and closing of the festival week by launching fireworks along the river at the Corbaceiras port.  This is an uninterrupted display, usually about 30 to 40 minutes long and they have always been my favorites.
The Peregrina festival also has bullfights, if you're interested.
NOTES
About the photos in this guide.  Most of the photos are mine and were taken by me.  The exceptions are: the Galicia map and globe, the Santiago Cathedral, the percebes, a Praia das Catedrais, A Toxa, A Lanzada, Vigo and I'm not sure about Ravachol.
About the external links.  I have made links to pages that I think may be useful for visitors to Galicia.  This is no way an endorsement of any company or organization that might host said pages.  Except the Reitoral de Chandrexa; I totally recommend it.